Laws regarding estate taxes are constantly changing.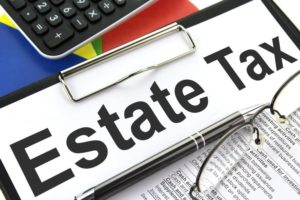 Currently, estate taxes are set at 35%, but this number could very well increase in the future.  The attorneys at James F. Roberts & Associates have the experience and the tools to make sure that you pay the minimum taxes on your estate when you pass away.  If your entire estate — including your home, rental properties, bank and brokerage accounts, retirement accounts, and other assets — is valued at $1 million or more planning is essential. If your estate value is above $1 million then you need a trust to protect your assets from probate and potentially paying 35% in estate tax.
It is important to remember that your life insurance policy is also included in your estate for purposes of estate taxation.  If you want to pass down as much wealth to your beneficiaries as possible and give the government the minimum amount of taxes, our attorneys can draft a trust tailored to your needs.
In order to help serve our community we offer a free monthly estate planning seminar in our office classroom and we invite everyone looking to ensure that they are making wise choices in their plan to join us. We know that choosing how to best protect your assets and your family is important and we want to help you make the right choice for your situation and to help you keep your plan updated when needed. To contact us for an appointment or to inquire about our next free seminar please click here.