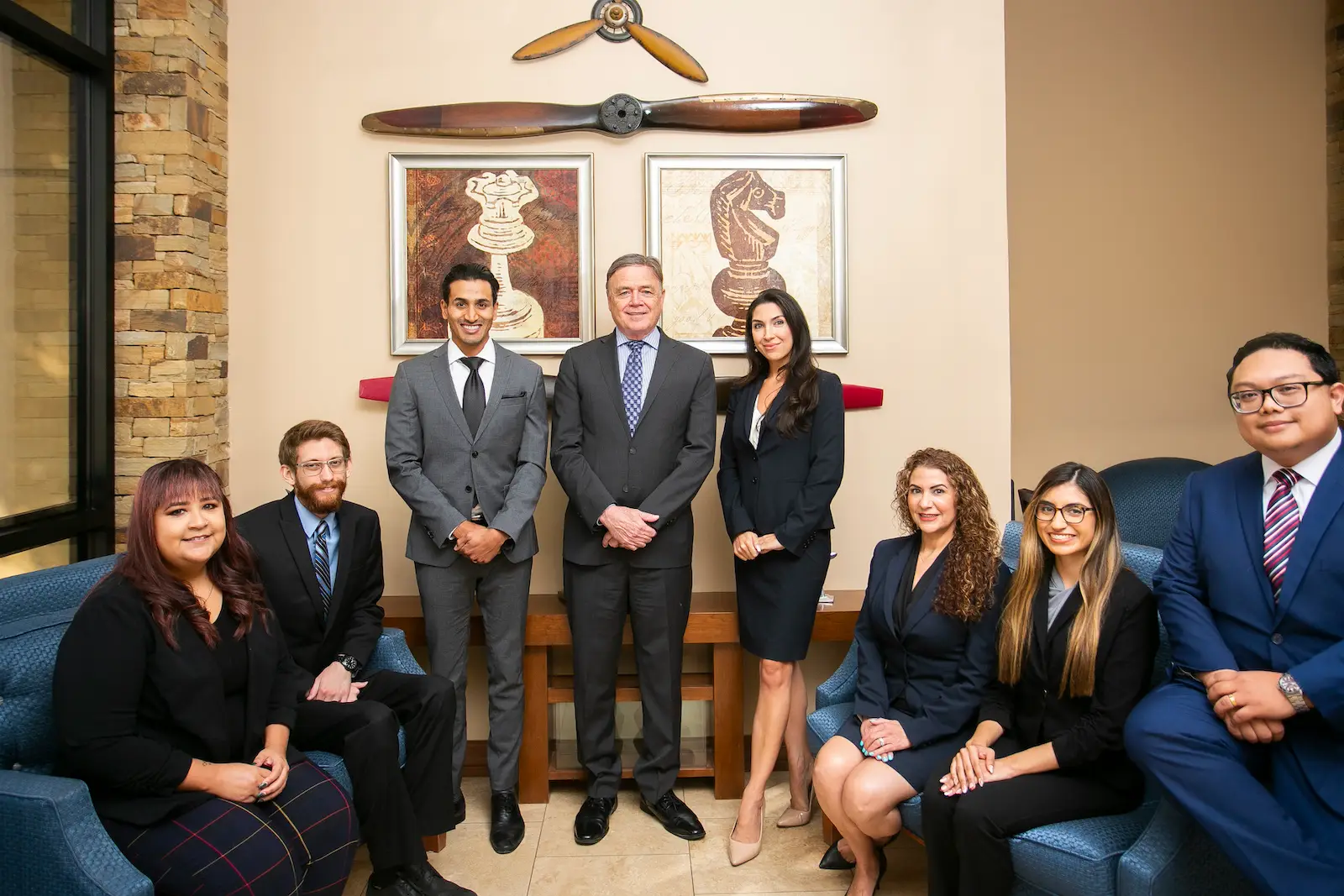 Our California Estate Attorneys Appreciate the Praise We Get From Clients
We have created thousands of California estate plans. We have also handled numerous California trust administration cases. Read reviews from our happy clients.
Being the executor of a Family Trust is nerve wracking enough, but even more so when you are the executor of your good friend's Family Trust. This is where Jim [James F. Roberts] and his staff of friendly and knowledgeable people come in. Jim walks you step by step through each process from beginning to end and is available in the interim by phone, email, or office appointment. Any and all services needed are available in Jim's office, thus making it virtually a one-stop-shop for any needs regarding the process of a family trust.
James F. Roberts & Associates assisted us in the administration of our mother's estate. They provide absolutely wonderful service. It has been a very positive experience.
Excellent service. All the attorneys and staff are so helpful, kind, and patient. Thank you everyone at Roberts & Associates for all your assistance.Excellent service. All the attorneys and staff are so helpful, kind, and patient. Thank you everyone at Roberts & Associates for all your assistance.Excellent service. All the attorneys and staff are so helpful, kind, and patient. Thank you everyone at Roberts & Associates for all your assistance.
There was excellent communication about the difficult concept that a trust can be. Mr. Roberts provided great suggestions for us and advised us on areas of concern.
The purpose of my visit was to revive my living trust to reflect my current emotional and living status. The result of this transaction has been excellent and coincided with my initial expectation. I feel that the law firm, from the clerical staff to the attorneys, handled this matter in a highly professional, organized and conscientious fashion. Thank you so much for this attention.
James Bourgeois
20:16 20 Nov 17
We recently created a living trust with Holly and others among the super staff here. Holly balances expertise, clear communication, and care in a great way. She Interpreted our wants quickly and helped us craft a solution that was right for us. We recently moved to California from the Midwest, and it is great to have the right support in place for things as important as this. 5 stars. 100 stars.
Ann Owens
01:07 03 Jun 17
The law offices of James Roberts did our will and trust in 2002, redid our trust in 2013, and redid our trust a third time this year. People do not realize that laws change over time and it is important to revisit your trust. This is a gift to your heirs. No one wants to pay unnecessary taxes and they can help you protect your interests. Their office explains things in great detail and helps you through every step of the process. They bring up ideas you may not have thought about. Protect your estate and take advantage of their superior services.
Anthony Ligatti
18:14 22 Aug 17
It was a pleasure to work with such a high quality firm. I was pleased with all aspects of my experience but especially with the quality of the employees who assisted me. Attorney Cagna Basar is terrific! She is very patient and kind. She is certainly most competent and knowledgeable and pleasant to work with. I feel truly confident with her expertise. The entire firm houses superlative personnel!
Tiam N
03:54 13 Jun 17
We worked with Holly Nabiey to establish our fathers' living trust and will. She was very knowledgeable and thorough. She took care of everything and explained what everything was and what we had to do next. She was very responsive and professional. I would recommend all my friends and family to set up a living trust/will, and go through the Law Office of James F. Roberts and ask for Holly! My family and I can rest easy now we have our fathers affairs in order.
Jal Birdy
17:08 08 Aug 17
We were faced with an out of the ordinary situation. We received very good advice and our problem was satisfactorily solved. We are very happy with the service we received from James. Very highly recommend them.
Annette Bahena
17:12 10 May 18
Staff is committed to giving extraordinary service and peace of mind.
Harriet Freer
22:17 21 Sep 18
Good experience. Have been client for about 15 years. Estate planning the best. I recommend this office.
Russell
16:38 30 Oct 18
Recently amended our Trust with James Roberts. Extremely thorough, very professional and provided clarity throughout the entire process. Overall an excellent experience.
Dennis Pruden
18:56 11 Nov 18
Had a great experience. I would recommend to anyone. Was very pleased with the service and knowledge of the staff.
dreamer22611
20:14 01 Jan 19
Had my grandpa's and grandmas trust done here.. I will be doing mine here in that future
Jessica Richardson
18:48 25 Jan 19
Attorney Roberts is an excellent attorney to work with on getting a trust created. I really like him and his staff. I found them to be quick, reliable, and they do a good job! Thank you for all you do in the Anaheim community.
Joanne Sarria
14:51 29 Jul 19
My husband and I enjoyed working with Davinda Wijemanne to restate our existing family trust and to create a separate property trust. After our initial meeting, I was able to email Davinda with additional concerns/questions and he promptly answered them. I feel that Davinda wanted us to be completely satisfied with the changes made to our family trust and I believe he was truly interested in restating our family trust for my family's best interest.
Bernie Miller
16:06 02 Aug 19
Big D and Amanda are very thorough and well educated and trained in preparing our family trust.
katcleansteeth2010 .
17:08 28 Sep 19
What an experience! Everyone here was so professional and personable. Davinda knew how to explain things in a way we could understand, and Amanda's notary skills were something of legend 😉 We would recommend their services to anyone!
Bo Zhuang
20:28 25 Oct 19
First, it's Very impressed when we walked into office, clean and professional looking. Our estate planner Davinda is very knowledgeable about estate plans and carefully listened to our special needs. Gave us different suggestions. Even after the work done he still answered our questions though email or phone . We strongly suggest for whom are looking for creating an estate plan with special needs trust! We already suggested our friends to him who met him shortly after. Good job, Davinda! Thanks!
Josie Gomez
16:54 17 Dec 19
Everyone at the office was very nice and made me feel comfortable when I went. I was very nervous and they made me feel at ease. They answered all my questions. I will recommend them to my friends.
Tina Lee
01:41 18 Feb 20
All paperwork, signatures, and details for our Trust were handled with careful thought and meticulous attention to every detail and concern. Special thanks to Davinda Wijemanne who was respectful, professional, and followed through with every request.
Melissa S
00:49 05 Mar 20
Amazing service. We got our family trust completed with Davinda Wijemanne. He took his time with us and explained everything and made sure the trust read as we wanted it. I will definitely use them from here forward.
Elle Luce
02:08 02 Jun 22
My husband and I worked with Holly and Ana to establish our trust and they were wonderful to work with. Holly explained everything in detail and gave us insight to help make the best decisions for our family. They helped make it easy to schedule and complete all paperwork in a timely manner. It has been a good experience working with the whole team.
Nancy Savage
13:49 14 Jul 22
All the team at James F. Roberts and Associates and friendly and helpful. I worked with Holly several times in association with updating my trust. She is very kind and knowledgeable and willing to take the time to explain options I had within the trust. Holly made sure that I understood the changes and was willing to answer any questions I had regarding the terms of the trust and other documents associated with the trust. I would highly recommend James Roberts & Associates.
Quan Dang
12:28 15 Jun 22
My siblings and I inherited my parents' home and we are very thankful to Holly for her diligent and professional work in the inheritance process. She made it very easy and painless. Thank you again Holly!
Betty Mart
12:13 13 Jun 20
Maria is knowledgeable, patient, understanding, and very efficient! She was always available for questions/requests by phone and email. During a very challenging time she guided me through the process and made me feel at ease.
James B
01:38 25 Jan 13
Mr. Roberts and his staff were instrumental in helping my family through a particularly difficult and complicated time. They were very thorough in revising our family trust and did a great job at explaining the ins and outs of it to my dad and me. Holly was particularly kind and helpful, and was very responsive when I asked for additional advice, copies of documents, etc. I would recommend James Roberts and his associates to anyone that is undergoing the process of creating or revising a family trust.
Edith Cheshier
02:58 01 May 23
Very professional!!!! Took his time to explain thing's. Would highly recommend him!!!
Joseph Kehler
04:23 14 Oct 22
Kelly Odle
03:47 03 Nov 23
The team at James F Roberts and Associates handled my trust professionally and with great attention to detail. They asked all the questions needed and posed scenarios to make me and my husband consider all of our options to determine the best course of action for our trust. I highly recommend them.
Next Reviews