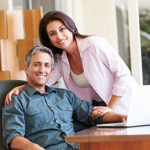 Have a Non-U.S. Citizen Spouse? Consider Using a QDOT. Creating an estate plan involves a lot of decision making and careful consideration of goals and needs. Couples who are not both citizens of the United States have additional issues to keep in mind as they create their plan. One option that may be a useful tool for married couples is a Qualified Domestic Trust.
6 Advantages of Qualified Domestic Trusts (QDOT) for Your Estate Plan
Why consider a Qualified Domestic Trust when creating your estate plan? The following are six advantages of these trusts:
A QDOT allows married couples with one non-U.S. citizen spouse to defer the payment of estate taxes.
The non-U.S. citizen surviving spouse can still receive the income from the trust assets after the first spouse dies.
When the second spouse dies, the assets pass to the couple's children or other beneficiaries of their choosing.
The trust assets are included in the estate of the U.S. citizen spouse who is the first to die. The trust assets are not included in the estate of the non-U.S. citizen spouse who is second to die.
If trust principal is distributed to the surviving spouse, ordinarily estate tax is due. However, the IRS offers a hardship exemption. If the surviving spouse has an immediate and substantial need for money relating to health, maintenance, education, or support, the trustee may be able to distribute trust principal without incurring estate tax liability. The surviving spouse must not have other reasonably available liquid assets.
In addition, the hardship exemption may be a useful tool that is used for people that the surviving spouse is legally obligated to support, such as the couple's children.
Have a Non-U.S. Citizen Spouse? Consider Using a QDOT. Creating an estate plan that is right for your family requires the guidance of an experienced and knowledgeable legal professional. We are here to help. Contact us today at (714) 282-7488