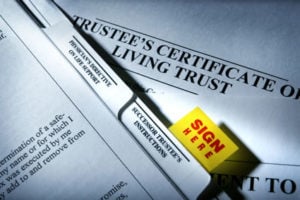 Some trusts are created to benefit family and friends who survive the death of a loved one, and a trustee's job is to administer the trust according to the law. As a beneficiary, you may feel you have little or no control over how the trust is being administered, and you may be frustrated, angry, or even scared that someone else's actions will cost you your inheritance. This article will explore how to potentially solve trust problems if you are a beneficiary.
Here's What You Can Do if There are Trust Problems and You are the Beneficiary 
It is important to address your concerns with the trustee before significant and irrevocable damage is done. Here are three tips to help you work in a positive way with the trustee:
Ask questions. Miscommunication is common and may be resolved if you ask questions and get clear and accurate answers about how the trustee is handling the trust.
Ask for a trust accounting. Asking for paperwork, receipts, or written documents will provide transparency, and can help you understand how the trustee works on behalf of the trust. Seeing written statements and documents is helpful in resolving issues.
Make your case. Some trustees have significant decision making power over how beneficiaries spend trust money. If you believe that your request for funds is reasonable and fits the terms of the trust, make a well-reasoned argument in writing. The trustee may be more likely to consider it.
How to Resolve Trust Problems If You Are a Beneficiary. If you find that your attempts at open communication and compromise aren't successful, you might consider asking the trustee to resign; taking steps to have the trustee replaced; or contacting an estate planning lawyer for help. Learn more about your rights by reading our related links and watching our free videos HERE. You may also schedule a consultation to speak with an estate planning attorney at (714) 282-7488.